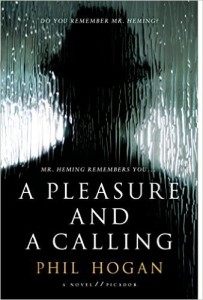 A PLEASURE AND A CALLING — Phil Hogan
There are manifold books and movies, eagerly awaiting your attention, featuring ghosts, ghouls, the supernatural, wizards or Satanism. And if that's the sort of novel you'd like to read for Halloween, you'll unearth no lack of choice. However, what I find most chilling of all in the world is not the monster, the wraith, the demon—the most terrifying creature in all of existence is the human being.
Phil Hogan's Mr. Heming, the narrator of his fine novel A PLEASURE AND A CALLING, is a character to send chills right down to the molecular structure of your bones, a compellingly creepy creation who will have you checking and re-checking your closet at night before you dare shut even one tentative eye.
An estate agent (real estate agent) in a quaint English town, Mr. Heming still has the keys to every house he's ever sold. And oh does he use them.
From this simple but sinister premise, Phil Hogan spins a tale that is dark, devilish and yet deliciously comic, much of the humor derived from the fact that, as a reader, you quickly find yourself negotiating a morality maze as you begin to sympathize with Mr. Heming, a sinister guardian angel who hides in the shadows, both delightfully genteel and dangerously prim.
And so, if it is the everyday monster you wish to meddle with around Halloween, do give this addictive novel of human compulsion a try.
___
Disclosure: This novel is published in the US by Picador, who also publish my novel, and was handed to me on the basis that I might enjoy it. Which I did.